Rocky Schenck was raised on a ranch in the hill country outside of Dripping Springs, Texas. His parents were an imaginative, creative, and colorful couple who enjoyed life, parties, and the occasional drink or two. They delighted in creating a fantasy world for their two children, making each and every holiday, birthday, and lost a tooth a "really big deal". Rocky and his sister Becky believed in tooth fairies, Easter bunnies, and Santa Claus just a little bit longer than other kids. He was nicknamed "Rocky" when he was three days old by his sister, who was confused by the other names his parents chose for his birth certificate: Richard Davis Botho Arthur Schenck.
At age twelve, Schenck began studying oil painting, having been greatly influenced by the romantic landscape paintings and portraiture work of his great-great-grandfather Hermann Lungkwitz (1813-1891) and great-great-uncle Richard Petri (1824-1857), both German immigrants and classically trained artists who moved to the Texas Hill Country in 1851. Schenck began selling his paintings professionally at age 13.

Around this same time, Schenck began a lifelong interest in motion pictures and photography, watching vintage films on television as often as possible. In his early teens, he began writing, directing and photographing short experimental films and learning still photography while shooting production stills on the sets of his movies.
His fascination with the art of filmmaking and photography motivated a transition to Los Angeles, where he worked at a variety of odd jobs while continuing to create films and photographs. Artists in the motion picture, musical, literary and theatrical worlds began approaching Schenck for their projects, thus creating a diverse portfolio of fine art, portraiture, film and theater work.
A gallery owner in New York discovered Schenck's work and gave him his first one-man photography exhibition, followed by a second exhibition a year later. Both shows were well received and reviewed by several publications, including Art in America, Artforum, and Aperture. Since then, Rocky has continued to show in galleries around the world and his work is now included in several prestigious museum and private collections. The Wittliff Collections in San Marcos, Texas own the largest collection of Schenck's work.
Schenck travels often to create his fine art work. "I love to go out wandering with my camera, sometimes with no specific agenda planned for myself," Schenck said in an interview with author John Berendt. "I always stumble across something or someone that intrigues me – whether it's a hypnotic landscape or a perfect stranger going about their day unaware of my eavesdropping on their reality. I simply take my camera with me wherever I go and try to remain open to whatever life shoves – or gently places – in front of me."
For the past several years, Schenck has been concentrating on a new collection of large format hand-tinted color images, which were exhibited in his recent shows in Norway, Korea and Texas
In the music and entertainment world, Schenck has photographed several hundred album covers and has written and directed over 150 music videos. He has shot fashion, editorial and portraits for Vogue, Rolling Stone, Time, New York Times, Entertainment Weekly, etc. He has collaborated with personalities ranging from Adele, Francis Bean Cobain, Robert Plant, Alison Krauss, Ray Bradbury, Ellen DeGeneres, Baz Luhrmann, Kylie Minogue, Nick Cave, P.J. Harvey, Willie Nelson, B.B. King, Annie Lennox, T-Bone Burnett, Joni Mitchell, The Cramps , Prince Poppycock, Linda Ronstadt, David Cassidy, Greg Kinnear, Josh Duhamel, Diana Krall, Tom Cruise, Johnny Mathis, Delta Goodren, Brian Wilson, Van Dyke Parks, The Eels, Jason Lee, Bill Paxton, Sarah Jessica Parker, Nicole Kidman, Neil Diamond, Marissa Tomei, Sugarland, Laurence Fishburne, Crispin Glover, Rod Stewart, Stevie Nicks, Gladys Knight, Willy Deville, Angie Dickinson, Devo, Patti LaBelle, Guns N' Roses, Dionne Warwick, John Waite, Gloria Estefan, Donna Summer, Alice in Chains, Ozzy Osbourne, Melissa Etheridge, Scissor Sisters, Paul Westerberg, X, The Pixies, Martika, Angelyne, Stockard Channing, Al Jarreau, Gary Coleman, Linda Blair, Robby Krieger, Spirit, Dokken, Iris DeMent, Trisha Yearwood, Stan Ridgway, L.A. Guns, Supersuckers, Raging Slab, Violent Femmes, Faster Pussycat, Joey McIntyre, The Misfits, Redd Kross, Luna, Gary Barlow, Ace of Base, Lisa Stansfield, Van Halen, Sheryl Crow, Meat Puppets, Marc Anthony, Julie Newmar, Imperial Teen, Roachford, David McAllmont, David Arnold, Combustible Edison, Peabo Bryson, Seal, Afghan Whigs, k.d. Lang, Emmylou Harris, Pearl Jam, Francoise Hardy, Jerry Lee Lewis, Natalie Cole, Weird Al Yankovic, Madeleine Peyroux, John Prine, and many other bands, musicians, and artists.
Director William Friedkin utilized Schenck's art photographs as massive sets in his production of the opera "The Makropulos Affair" in Florence, Itay, and also in the classic Bartok opera, "Duke Bluebeard's Castle" in Los Angeles.

Schenck's first book, "Rocky Schenck Photographs" was published by the University of Texas Press in 2003, which sold out the first and second editions. John Berendt, author of "Midnight in the Garden of Good and Evil", and a collector of Mr. Schenck's work, wrote the foreword.
Schenck's second book of fine art photographs, entitled "The Recurring Dream", was published in 2016 by the University of Texas Press. The book includes Schenck's hand tinted color images, with a foreword by acclaimed visionary William Friedkin, and an afterword by Schenck. A book of Schenck's decades of portrait photography entitled "Portraits, Etc." is currently a work in progress.
Schenck's first feature film, "Four Ladies Dancing", a black and white psychological poem of paranoia, will be released soon.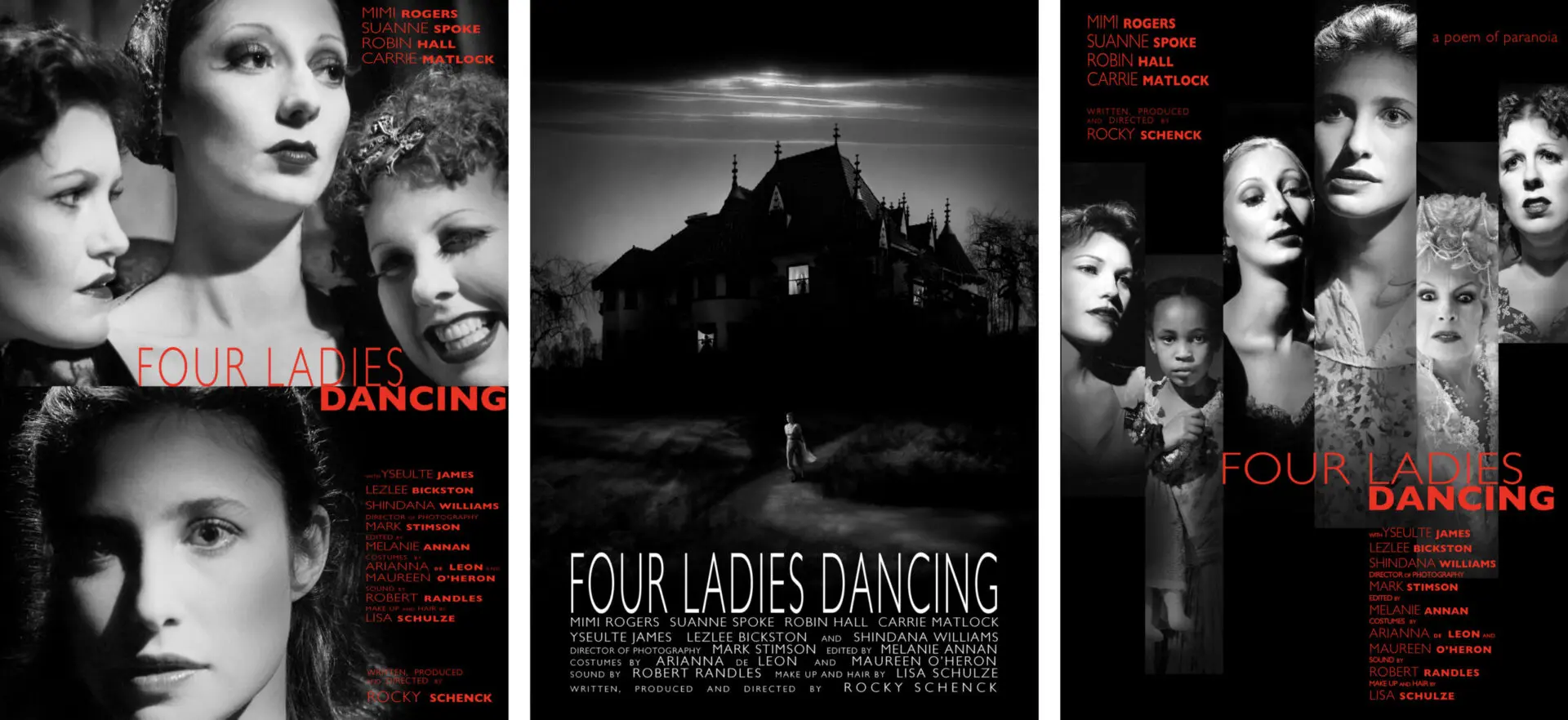 SELECTED SOLO PHOTOGRAPHY EXHIBITIONS
SELECTED GROUP PHOTOGRAPHY EXHIBITIONS
ARTWEEK:
"Like a modern-day Heathcliff still haunted by the philosophical and aesthetic passions of Catherine's Wuthering Heights, Schenck revels in both the emotional swirl of Romanticism and the shadowy netherworld of Gothic nightmares.  Schenck's stunning, heavily toned photographic prints harken back to the nineteenth century in their technical finesse and reverent treatment of the landscape as ennobled subject matter.
BLACK AND WHITE:
"At the threshold between perception and imagination is where Rocky Schenck finds artistic inspiration for mysterious, otherworldly pictures of landscapes and human environments."
JOHN BERENDT:
"Each photograph is like a still taken from a movie that exists not on film but rather in one's memory, with all the fuzziness typical of remembered impressions. The viewer, willing or not, fills in the frames that precede and follow it… When confronted by such compelling and seductive images, the viewer can hardly help but respond reflexively, amplifying, expanding, and otherwise making the photograph his own. This compulsion to respond, together with the lovely elegiac mood in all his work, is the real power of Schenck's photographs."
WILLIAM FRIEDKIN:
"His photographs are haunting, mysterious, evocative and unforgettable."
ART IN AMERICA:
"The power of darkness is a romantic idea, Coleridgean in its emphasis on the creative power of the imagination and hostile to the classical values of clarity and precision. The viewer is meant to populate the blackness with the horrors of the unconscious…this is the case with Schenck's photographs."
PDN:
"It is a measure of the curious strength and unity of vision of the photographs that after you've examined all of them, you feel that there is no other way of seeing the world than his, that there is no other photography you'd rather be looking at."
CAMERA ARTS:
"The images seem like lost scenes from a silent movie, articulating a landscape that is at once threatening, yet comforting in its solitude, a place where loneliness and alienation are offset by moments of intense beauty."
ZOOM MAGAZINE:
"Schenck's photographs are the fruit of a solitary and vagabond imagination, they are scenes of life stolen from anonymity to become part of a tale for which each viewer can make up his own plot."
FLAVORPILL:
"Schenck's work is painfully romantic, elusive, and poignant, demonstrating a convincing 19th –century attitude toward his medium. Landscapes and figures have not looked so absolutely saturated in fantasy for generations, yet a lingering sinister character and dark humor keep them firmly modern. "
ANN MAGNUSON:
"Schenk's photographs seem like buried memories you can't quite recall but continue to obsess over with the hope that by doing so, you will achieve that ever-elusive breakthrough, just like in therapy. The results are phantasmagoric."
ARTSCENE:
"These images are adept at the game of open-ended narrative. Schenck's psyche is personally embedded in each of these reverie's, transformed in the darkroom from a "significant moment" into a robust narrative."
ROBERT PLANT:
"Next shoot – let me carry your gear? Magnificent!"
RANGEFINDER:
"Rocky Schenck – a true artistic visionary."
ART NEWS:
"Schenck's scenes appear as if viewed through the filter of a dream…infused with a fantastic light. Mysteriously foreboding, as though Edgar Allan Poe might have conceived it."
VILLAGE VOICE:
"His dark, nearly impenetrable landscapes have a mock-romantic, quasi-Pictorialist feel that has an odd leveling effect; everything looks at once dismal and wondrous."
AMERICAN PHOTO:
"It comes as no surprise that Rocky Schenck's photographs look like paintings. Schenck fashions his shadowy world by old-school pictorialist means, heavily manipulating the surface of his negatives and the prints themselves. "
THE ATLANTA JOURNAL-CONSTITUTION:
"Relentlessly contemporary and composed with emotionally charged complexity, Schenck's genius is his ability to make whatever catches his eye take on the dimensions of a dream."
SOUTHWEST ART:
"Rocky Schenck is on the forward edge of contemporary fine-art photography – an edge that in some ways circles back to an earlier moment in the history of fine-art photography, when 19th-century Pictorialists intentionally blurred the aesthetic boundaries between photography and painting".
ZOOM:
"Schenck's works are mysterious and phantasmagoric, just as the pages of Edgar Allan Poe are and have the power to evoke the verses written by this visionary poet."
ARTSLANT:
"Rocky Schenck's work lies somewhere between our greatest fantasies and our worst fears. His pieces are consumed by a darkness that is as romantic as it is dangerous."
CREATIVE LOAFING:
"Using his camera like a decoder that makes the world clearer by first filtering it through his hazy subjectivity, Schenck creates luminous, haunted photographs that appear as a testament to a truth once removed, like travel photos of Earth taken by an alien.
ROCKY SCHENCK:
"I take my camera everywhere and I shoot whatever I come across. It's like I'm taking stills for a movie," Schenck explains. That movie is undoubtedly Schenck's own life, which he attempts to comprehend through these production stills of his own psyche."
"I consider my images to be illustrations of my conscious and unconscious dreams, emotions, and longings. If I'm sad or depressed or melancholy, I can wander somewhere with my camera and usually turn my mood around by stumbling upon something unexpected and wonderful."